GAZA/JERUSALEM:

Israel agreed to halt operations in northern Gaza for four hours a day starting Thursday, the White House said, in the first sign of relief in more than a month of clashes that have left thousands dead and fueled fears of a regional conflict.
The pauses would allow people to leave along two humanitarian corridors and were important first steps, said White House national security spokesman John Kirby.
"We have been told by the Israelis that there will be no military operations in these areas during the pause and that that process begins today," Kirby said.
The pauses, which were to be announced three hours in advance, stemmed from discussions between US and Israeli officials in recent days, including talks between US President Joe Biden and Israeli Prime Minister Benjamin Netanyahu, Kirby added.
Earlier, Israeli forces battled Hamas militants among ruined buildings in the northern Gaza Strip, inching closer to two major hospitals as the civilian situation in the besieged Palestinian territory worsened.
Thousands more Palestinians fled the war-torn north to south along a dangerous front-line path littered with bodies after Israel told them to evacuate, people on the route said.
Read more: Prime Minister warns of secondary effect of Gaza war
But many remain in the north, huddled in Al Shifa Hospital and al-Quds Hospital as ground fighting rages around them and more Israeli airstrikes rain down from above.
Israel says its enemies in Hamas have command centers built into the hospitals.
In Doha, the heads of the CIA and Israel's Mossad intelligence agency met with Qatar's prime minister to discuss a possible hostage deal, a US official said on condition of anonymity. Qatar has been a mediator with Hamas in the past.
In Paris, officials from about 80 countries and organizations met to coordinate humanitarian aid to Gaza and find ways to help wounded civilians escape the siege, now in its second month.
"Without a ceasefire, lifting of the siege and indiscriminate bombing and warfare, the bleeding of human lives will continue," Jan Egeland, Secretary General of the Norwegian Refugee Council, said before the White House announcement.
Israel and its main backer the United States say a full ceasefire would benefit Hamas.
An Israeli military vehicle maneuvers during the ongoing ground invasion of the Gaza Strip. PHOTO: Reuters
Israel launched its attack on Gaza in response to a cross-border raid by Hamas in southern Israel on October 7, in which gunmen killed 1,400 people, mostly civilians, and took about 240 hostages, according to Israeli estimates.
Israel's retaliation in the Hamas-run enclave has caused great concern as a humanitarian disaster unfolds.
Also read: UN chief says Gaza deaths show something 'wrong' with Israel operation
Palestinian officials said 10,812 Gazans have been killed since Thursday, about 40 percent of them children, in airstrikes and artillery, while basic supplies are running out and the areas are being devastated by relentless Israeli bombardment.
Residents in Gaza City, a Hamas stronghold, said Israeli tanks were stationed around the area. Both sides reported inflicting heavy casualties on each other in intense street fighting.
Israel, which has vowed to wipe out Hamas, says 33 of its soldiers were killed in its ground operation as it advanced into the heart of Gaza City.
Nowhere to run
Thousands of Palestinians have sought refuge at Al Shifa Hospital inside Gaza City despite Israeli orders to evacuate the encircled area. They are staying in tents on the hospital grounds and say they have nowhere else to go.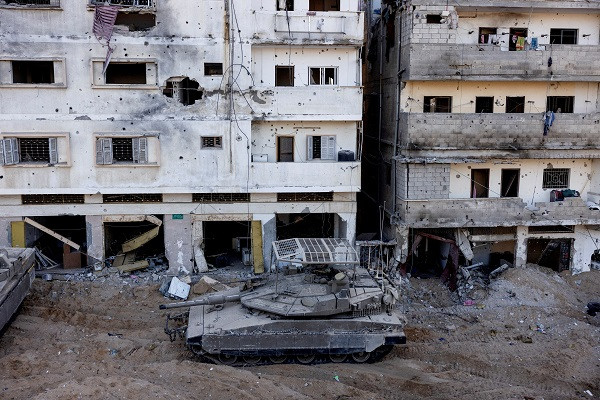 Israeli tank in Gaza. PHOTO: Reuters
The U.N. aid agency OCHA said the Israelis again told residents in the north to move south and that shelling around the main road continued, putting evacuees at risk.
"We saw decomposing bodies, people from civilian cars, civilians like us, not military cars or resistance men," Khaled Abu Issa said after crossing south with his family into the Gaza Strip.
Another resident, who asked not to be named, said he had crossed paths with his wife and six children.
"You have to hold your ID card in your hand and hold it up as you pass the Israeli tanks and then walk several more kilometers looking for a lift," he said.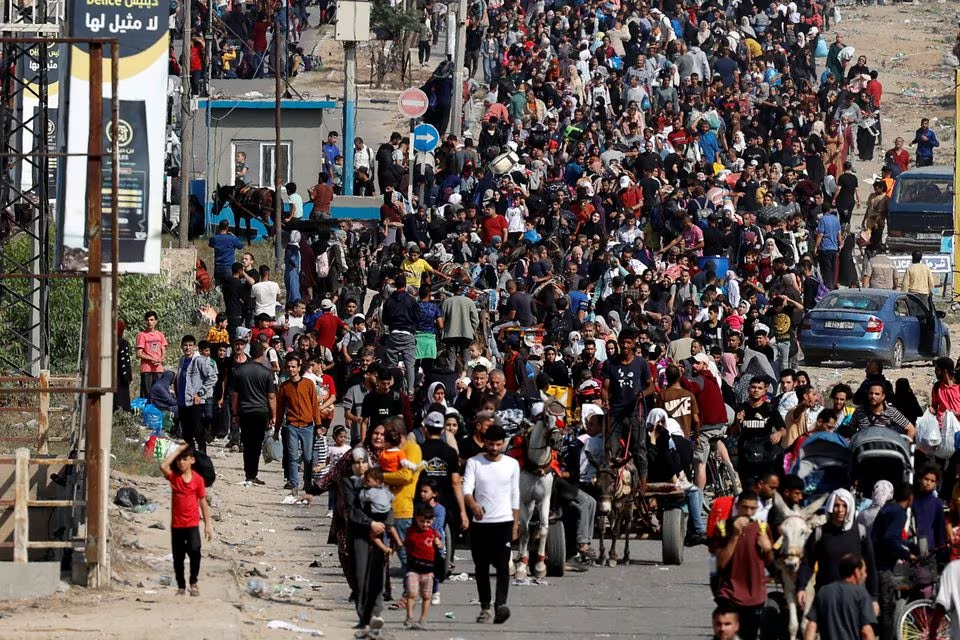 Palestinians fleeing northern Gaza walk south. PHOTO: REUTERS
The southern regions are also regularly attacked. In Khan Younis, Gaza's main southern city, residents picked through the rubble and debris of a building destroyed by an Israeli airstrike, hoping to find survivors, on Thursday morning, witnesses said.
Tensions have spilled over other fault lines. The Lebanese group Hezbollah said it fired rockets over the border into Israel, and the Israeli military said it responded with artillery fire.
Ten Palestinians were killed by Israeli forces in a raid on the city of Jenin and a refugee camp in the occupied West Bank, the Palestinian Ministry of Health announced. The Israeli military said it was conducting counter-terrorist raids.
An unidentified drone struck a civilian building in the southern Israeli city of Eilat, the Israeli military said, causing only light damage.


a href="https://tribune.com.pk/story/2445645/israel-agrees-to-four-hour-pauses-to-let-people-flee-gaza-white-house">Source link